Remote access to the library's resources
The library's electronic resources are also available outside of campus.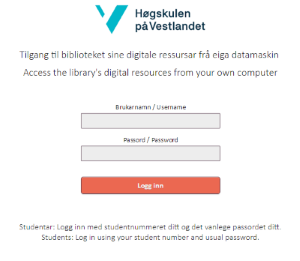 If you're following a link from the library's list of databases and resources or a link via Oria, you will automatically be asked to log in. Logging in will give you access to all the resources the library subscribes to.
How to log in
You log in with your regular HVL username (without "@hvl.no") and password. 
After you have logged in you will be sent to the resource/article.  
 «Wrong username/password"-error?
Change your password and check if you get access.
Student: Change password here (change language in the drop down menu).
Employee: From your HVL computer: Chose Ctrl+Alt+Del and select "Change password". If you do not have your HVL computer available, contact the IT help desk.
Having difficulties?
If you're having trouble logging in or getting access, contact the library at galanga@hvl.no.
For help searching the databases, contact the library.