Move-play-explore in early childhood education (MoveEarly)
MoveEarly is a large research and development project aiming to develop and promote an early childhood education pedagogy having movement, play, and exploration as its core elements. In strong collaboration with kindergartens participating in the project, we will develop optimal solutions for professional development of staff through which this pedagogical practice may be tested. At the same time, we will develop knowledge on how movement, play, and exploration affect children's development, learning, and well-being.
Movement, play, and exploration in early childhood education
Giving every child the best start in life must be the highest priority to promote equality, life opportunities, and a sustainable society. "Schoolification" within early childhood education and increased levels of physical inactivity in young children are worrisome trends that are not in the best interest of the child. The pressure to support the development of children's cognitive and academic skills has led to an influx of inappropriate instructional practices in early childhood education. Sedentary lifestyles and inactivity are also challenges in young children as well as in the larger society. These societal trends curtail young children's natural inclination to move, play, and explore.
Through our approach we will promote movement, play, and exploration in early childhood education and investigate how this may contribute to solve key challenges related to child development, learning, and well-being.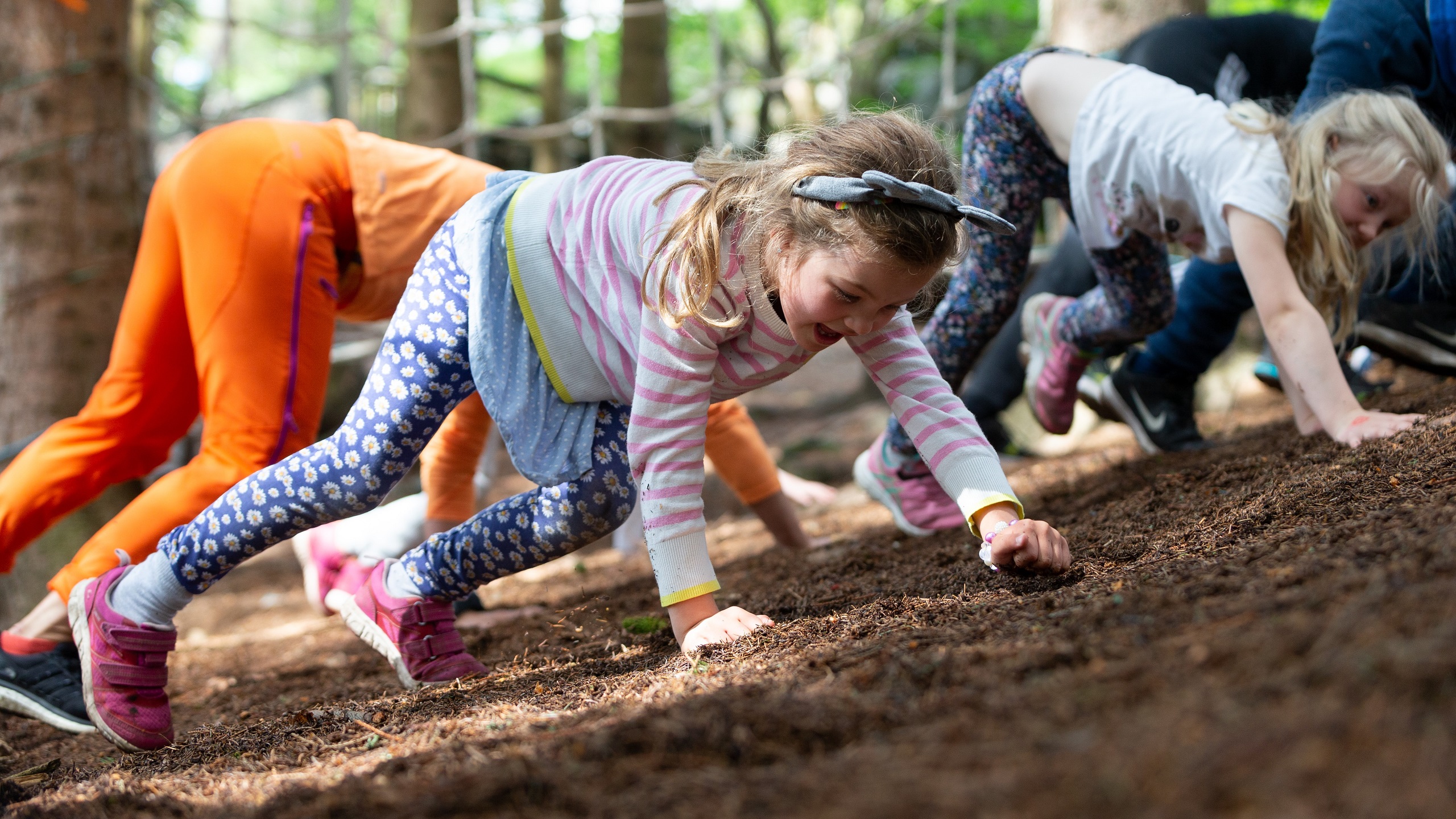 Aims of the project
The main aim of MoveEarly is to design and test a pedagogical approach ensuring an enriched environment for movement, play, and exploration in early childhood education. We will design a professional development and resources for staff (optional 15-credits) to promote movement, play, and exploration as cornerstones for good educational practices. In this way, we will conduct transdisciplinary intervention research to investigate how such a pedagogical practice can be implemented in early childhood education (process evaluation) and affect young children's development, learning, and well-being (effect evaluation).
Co-creation of development work and professional development
Development work and professional development will be co-created in strong collaboration between researchers, kindergarten staff, and stakeholders to ensure the development of useful and sustainable solutions. Staff in the intervention group will complete an 18-month professional development (optional 15-credits). The development and use of digital resources are an important part of this work. The intervention will be completed in kindergartens in Western Norway from 2024 to 2026.
Research activities and evaluation
Research activities include theory development and didactic design, development of new assessments, co-creation of professional development, effect evaluation, process evaluation, and knowledge transfer. We hope a broad evaluation including quantitative and qualitative methods will provide rich knowledge on sustainable solutions for early childhood education and population health. We will conduct a large intervention study, a randomized controlled trial, including 50 kindergartens and 500 children in the western part of Norway, to evaluate the intervention's effects on teaching practices and holistic child development over 18 months. We include a thorough process evaluation of the project to learn how staff understand, use, and develop their practices.
Transdisciplinary intervention research for the early years
Researchers from the Research group for physical activity and public health and KINDknow - Kindergarten Knowledge Centre for Systemic Research on Diversity and Sustainable Futures lead the project, which is conducted in collaboration with a broad group of researchers. Through MoveEarly, we aim to build a nationally and internationally leading transdisciplinary research group on intervention research integrating physical activity, public health, and early childhood education. In this way, we will shape future public health and early childhood education policy and lay the foundation for a sustainable society.